Getting your hands on an EV charger by top manufacturers Zappi, Andersen or Sevadis could not be easier
With our in house technology helping capture all relevant information needed, getting your hands on a smart EV Charger has never been easier.
Customers ordering a new EV charger from Smartplc can enjoy:
Installation within 7-10 days (subject to stock).

Simple to use and monitor.

Dedicated software and hardware technical support.

3-year warranty.

Fully supported from us here at Smartplc.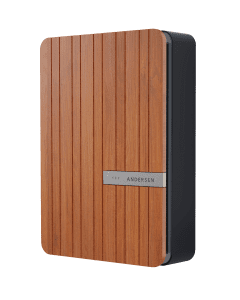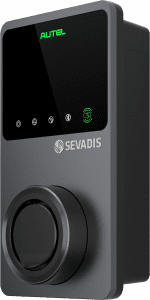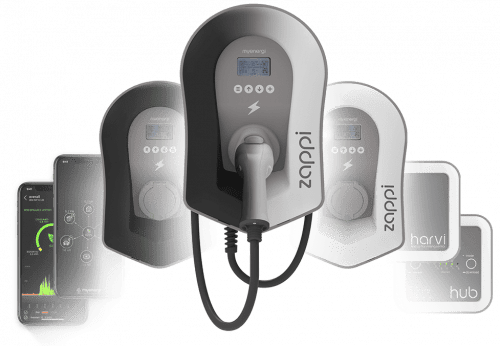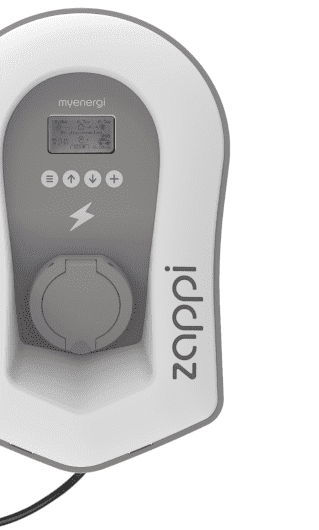 Why choose a Zappi EV Charger?
Not only does Zappi operate as a standard EV charger harnessing its power from the grid, it can also change charging modes to utilise 100% green energy from your solar PV or wind generation.
The Zappi team carefully designed features and functions to allow you complete control of your electric car charging. The charger partners with the myenergi app, allowing you to set times to utilise economy tariffs, use boost functions, monitor your devices and a lot more.
Set Timers
At certain hours, tariffs may be cheaper. With the Zappi, use the 'boost' timer to start charging at times with the lowest rates.
PV Charging
Zappi works simultaneously with PV charging – including battery and solar storage. Meaning you can charge your car using green energy for free!
Remote Access
The 'myenergi' app allows you to access and control your devices from anywhere in the world.
Pincode Protection
A 5 digit pin code, a integrated security feature which allows you to decide who can use your smart electric car charging point.
Why choose an Andersen EV Charger?

All electric and plug-in hybrid cars may charge at our sophisticated and fashionable EV charging point, which also has our patented integrated cable to conceal the charging cable and plug when not in use – becoming the most aesthtically EV charger on the market.

The Andersen A2 provides you the ability to manage the flow of energy between your house and EV and solar panels thanks to smart controlled connection, unmatched aesthetics, and cutting-edge technology.

Prepare to revolutionise your EV charging experience.
Commercial EV Charging Solution

It might be daunting for company owners to invest in infrastructure for electric vehicles. However, we are available to assist. Thousands of companies exactly like yours are now enjoying the advantages of EV technology. Charging points are an excellent way to help your staff as they switch to electric cars, as well as to recruit and keep top talent, show your dedication to sustainability, and benefit from the green economy. To enable the most seamless transition to EV charging at your office, our team is on standby.
EV Charger Installation Photos

EV Charger Hertfordshire - Testimonials
We have consistently exceeded our client's expectations through our expertise, years of experience, and flexible resources.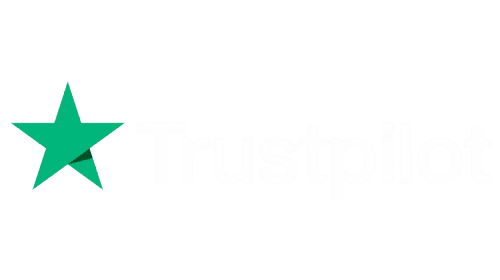 Russell was very knowledgeable at the planning stage. Charlie was very helpful and the chaps who installed the unit were also very helpful and knowledgeable. A good experience from start to finish. All nice people which always helps.
I used Smart to install an EV charging point. A thoroughly good experience from end to end. Good comms, friendly people and most importantly a high quality job. I would have no hesitation in recommending this Company to anybody who needs a similar job carried out.
I had cheaper quotes but theirs was the most comprehensive… final Price came in as quoted (which is always nice) pleasant company to deal with… happy to recommend…
I had two charging stations installed with Smartplc. They did an outstanding job. One of the best contractors I ever worked with in London. - Keep up the good work, you are a role model of the industry.
Charlie and the team at Smart Plc were a dream to work with. The installation of the charger went as smoothly as possible. Their quick response to all my queries was a huge plus. I can not recommend them enough.