Healthcare Clevertouch AV Solutions
Our Clevertouch healthcare AV solutions ensure that your site operates without a hitch, communications are flawless, and guests feel confident and secure visiting a cutting-edge facility that is committed to providing top-notch treatment. Utilizing the greatest digital technologies when time is of the essence enables patient involvement without the need for manual interventions. Our AV solutions contribute to exceptional levels of productivity, reduced wait times, favourable visitor feedback, and efficient footfall control.

Visitor Management Simplified
Reliable and efficient communication is essential in the hectic and demanding healthcare environment. You can communicate clearly and effectively in surgery waiting rooms, clinics, and hospitals thanks to clevertouch digital signage solutions. Our solutions, which can be used with a single big format monitor or several, are made to make organising and displaying your information simple.

With the help of big format screens and kiosks, our digital signage solutions successfully signpost patients, visitors, and hospital personnel, giving them the information they need to navigate complicated facilities with ease.
Visitors and patients can use their own devices to interact with the screen and capture screenshots of maps and other information using our special software features.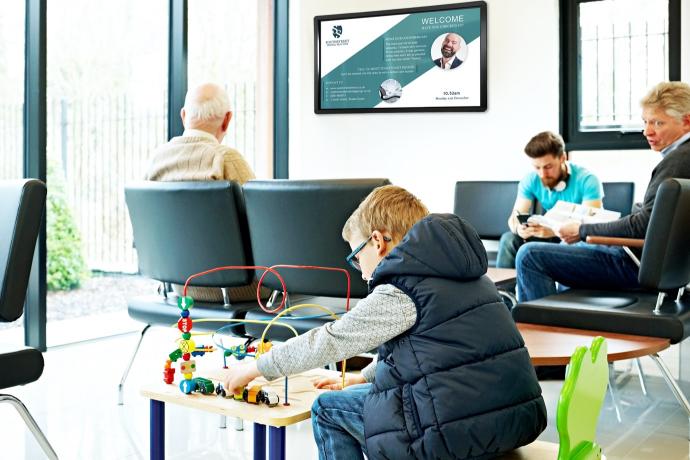 Digital Patient Communications
It is crucial for health service providers to give patients up to date information. The patient experience is improved by our digital signage, which shows information and waiting times with real-time updates to make sure their visit is efficiently handled and they feel in charge of their experience.

With built-in digital signage and a high-quality screen, our large-format display CM series offers visually compelling communications that clearly transmit media and notices with branding appropriate to your healthcare institution.

Additionally, Clevertouch offers media player alternatives including the Pico MK5, which is a great option for smaller medical institutions looking to maximise the value of their space, and the Pro-V4, a powerful digital signage player that shows important messaging day and night.
Professional Workforce Liaison
We understand that in a healthcare setting, time is often of the importance, therefore being able to liaise and communicate swiftly and remotely is critical. We install interior signs in staff spaces and break rooms to handle the most complex rotas and keep employees informed of changes to schedules or rules. 
When practises or policies change, they can be promptly communicated to all connected colleagues via their mobile devices and shown directly on the necessary digital signage boards. 

The UX Pro is ideal for use in training facilities and in consulting environments, with a crystal clear 4K display for high-detail images. New Field Communication (NFC) is a smart, credit card-sized dongle, that allows authorised users to save their Clevertouch configurations and transport them to any device in a building, for the ultimate flexible working environment.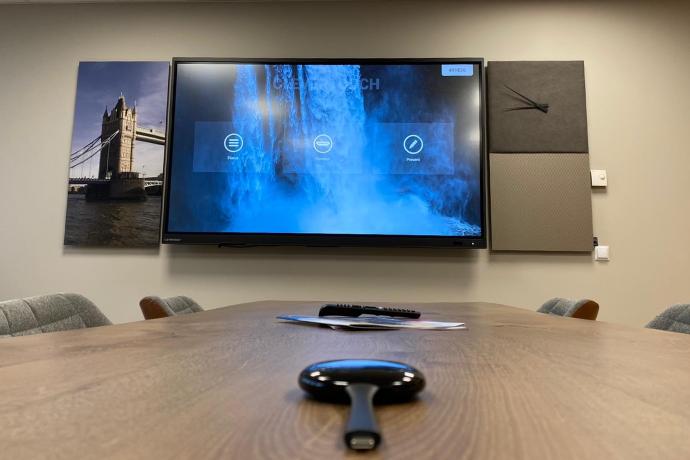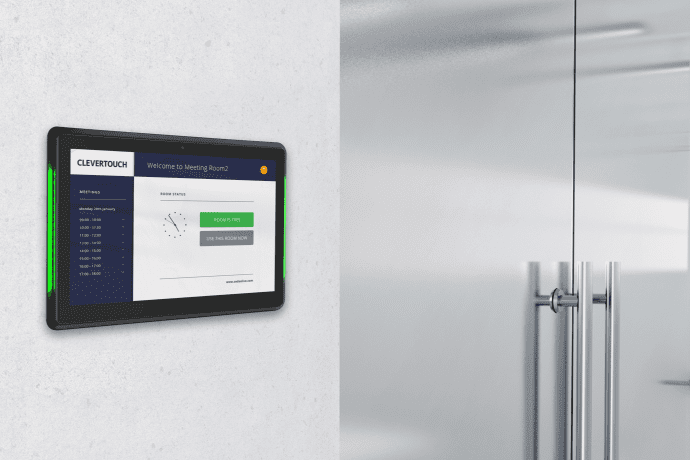 Healthcare Management System
Clevertouch installs smart, responsive solutions to help the busiest of healthcare facilities run smoothly. Our interactive room booking solution, Live Rooms, integrates with ME/O365 calendars and offers at a glance availability with LED lighting to enable staff to swiftly identify consultant or training rooms they can use as needed.
Digital displays provide the relevant information outside rooms and departments for a smooth visitor experience, with bookings managed and updated through powerful software.
CleverTouchLive adds a layer of firm oversight, enabling managers and administrators to connect and share information remotely, with faultless remote connectivity. Where emergencies arise, critical data must be shared, or essential notices need to be distributed, CleverTouchLive allows you to simultaneously and instantly share information across all devices.
Healthcare Software
Our innovative healthcare digital signage, collaborative, and room booking software is designed to integrate easily with your existing infrastructure. CleverMessage is particularly suited to medical environments with heavy visitor traffic, presenting urgent communications as digital signs across all connected devices instantaneously. A one-click emergency message solution rapidly delivers building evacuations, alarm testing, and urgent actions to all devices, displays, and notices. 
Gain access to the Clevertouch Ecosystem and use purpose-built technologies to bring your people together. ClevertouchLive enables administrators to login to and operate their devices from any location. CleverShare enables your employees to connect up to 50 devices to a Clevertouch screen and exchange content like as photographs, video, and audio. CleverMessage converts all connected devices into digital signs, enabling the synchronisation of a single message.