At Smart, we have years of knowledge and experience when it comes to data cabling installations across both the copper and fibre mediums. Our consultative approach means we provide our clients with a choice of options that includes both wired and wireless solutions. For added peace of mind, we can also offer a 25-year application warranty with all data cabling installations.
About Data Cabling in London
Data cabling is an important component in keeping your business operating smoothly. Whether your servers are in-house or located in a data centre, the cabling is a crucial element in ensuring fast, efficient access and business continuity.
Smart has years of experience across London in data cable wiring, working in data centres and on-premise, ensuring optimum speeds, minimising potential disruption from physical issues within buildings and planning for business continuity in the face of technical problems or physical disasters. We can help to plan and install data centre cabling to the highest standards, utilising many vendors which will warrant our installation for up to 25 years.
What's Involved in Data Cable Wiring?
The key to data cabling is to work with the overall topology of your systems to meet data capacity, physical distribution, security and health and safety requirements while building in flexibility for expansion or reconfiguration.
We'll use the best cable for your data capacity. We'll make sure cable runs are carefully planned to be safely away from potential hazards. We'll organise data centre cabling so it's easy to identify and maintain and create dual networks where necessary. We'll fully test any new cabling prior to installation and warranty installation. In short, we can make sure that your internal data centre enjoys the same cabling performance as a professional facility.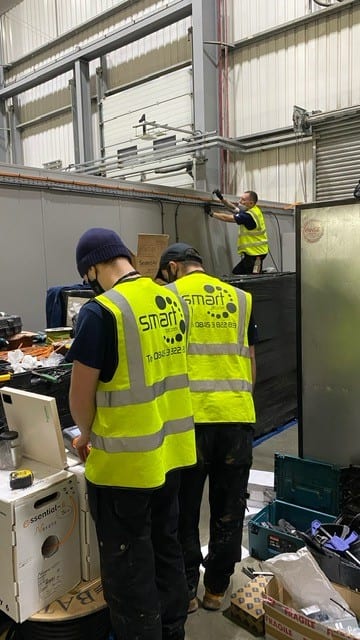 Why Partner With Smart for Data Cabling in London?
The offering goes beyond having exceptional fully trained engineers, with project managers in place to manage the deployment, irrespective of size. With over 30 years of experience and a free initial consultation, why wouldn't you engage with the Smart team of data cabling experts?
We always strive to work smart to purchase products and materials that offer the best in class for quality at a competitive price. Additionally, we will provide proficient project management with every job to ensure it runs smoothly and is completed on time to the relevant British Standards.
London Data Cabling - What We Do
With LAN speeds now potentially exceeding 10 Gigabit, the choice of the correct fibre technology has never been more important. From an initial client meeting and site survey Smart will look at defining the correct fibre type; whether single-mode, multi-mode, OM2, OM3 or OM4 etc.
As well as working inside the building Smart is able to offer a complete package for external fibres including all civil works. To ensure customer confidence, all installation is fully tested and covered by a manufacturers application based 25-year warranty.
Data networking is no longer defined purely in voice and data terms. Ethernet and IP have become the building blocks for technologies including access control, CCTV and audiovisual. With innovations occurring at such a rapid pace, it is imperative that end users work with industry experts.
Being a Cabling Contractor, Smart has a history of successful deployments and continues to explore the market for emerging technologies in this space.
As cabling systems become larger and the need to transmit data at ever-increasing rates becomes greater the case for fibre optic cabling becomes more relevant. Whether it is used as a vertical backbone or to link buildings across a campus, fibre optic cabling offers a modern, cost-effective solution.
Smart has the capability to carry out on-site terminations using fusion splicing or a variety of direct termination techniques (hot melt, cold cure/anaerobic, crimp, etc.).
Testing can be carried out using Power Light Meters or Optical Time Domain Reflectometers (OTDRs) and test results are provided as part of the handover documentation along with vendor 25-year warranties.
Smart's fibre optic cabling installation portfolio includes:
Fibre Optic Services Include:
Smart's fibre optic cabling installation portfolio includes:
Multimode cables (OM1, OM2 and OM3)
Singlemode cables (OS1 and OS2)
Tight Buffered and Loose Tube constructions
Pre-Terminated Solutions (Ideal for Datacentre projects Etc)
Internal, External and Universal sheath options
Rodent Resistant CSTA and Steel Wire Armoured cables for harsh environments
Fibre To The Desk (FTTD)
ST, SC, MT-RJ, LC terminations
Greater speed
Removes distance-related barriers
Fibre Optic Services Include: